Josh is a social entrepreneur and member of the Good Finance Stakeholder Review Panel, an advisory group that provides critical feedback on the performance and future direction of the website and project. Here he shares his current bootstrap mentality to growth, his recent success with crowdfunding and why he believes social enterprise can change the world.
I am the founder of Stand4 Socks, a social enterprise driven by the vision of 'what if socks could change the world?' In Europe, the average person buys 16 pairs of socks of a year, but these socks are a typically dull, poorly made afterthought, yet have rapidly become an acceptable fashion statement. Stand4 gives this ordinary purchase an extraordinary purpose through an innovative twist on the famous buy-one give one model. The purchase of one pair of socks can vaccinate three kids against measles, help clear landmines, educate a child or provide safe water to name but a few. Currently, we have an impact in 11/17 United Nations Global Goals, and across nine different countries…all from just socks!
Image
As a business, we have been fully bootstrapped to date, from savings, favours and everything in-between. However, I realised that to grow our impact and scale, we needed to move from start up to scale up and that finance would need to play a role there. Early on we turned down 'traditional' investment on offer, as I didn't feel the investors' motives were aligned with my wider goal. To me, it personally felt they saw Stand4 as a 'dinner party' conversation of a nice business they had invested in.
T his is an issue I know a lot of social entrepreneurs face, where they can be perceived as charities or cute little side projects, as opposed to the scalable, self-sustainable, impact-driven businesses they could be if we could only help change perceptions. For example, look at Toms Shoes in the US, the shoe brand that gives a pair to a child in need for each they sell. They are the fastest growing shoe company in last 10 years and recently sold a large stake for $625 million. No one would see them as a little charity project. Similar can be said for One for One eyewear brand Warby Parker valued at in excess of $1.2 billion. Whichever term you use from, 'more than profit, social enterprise or social business', it is not a niche but increasingly becoming the new way to do business that consumers expect.
Image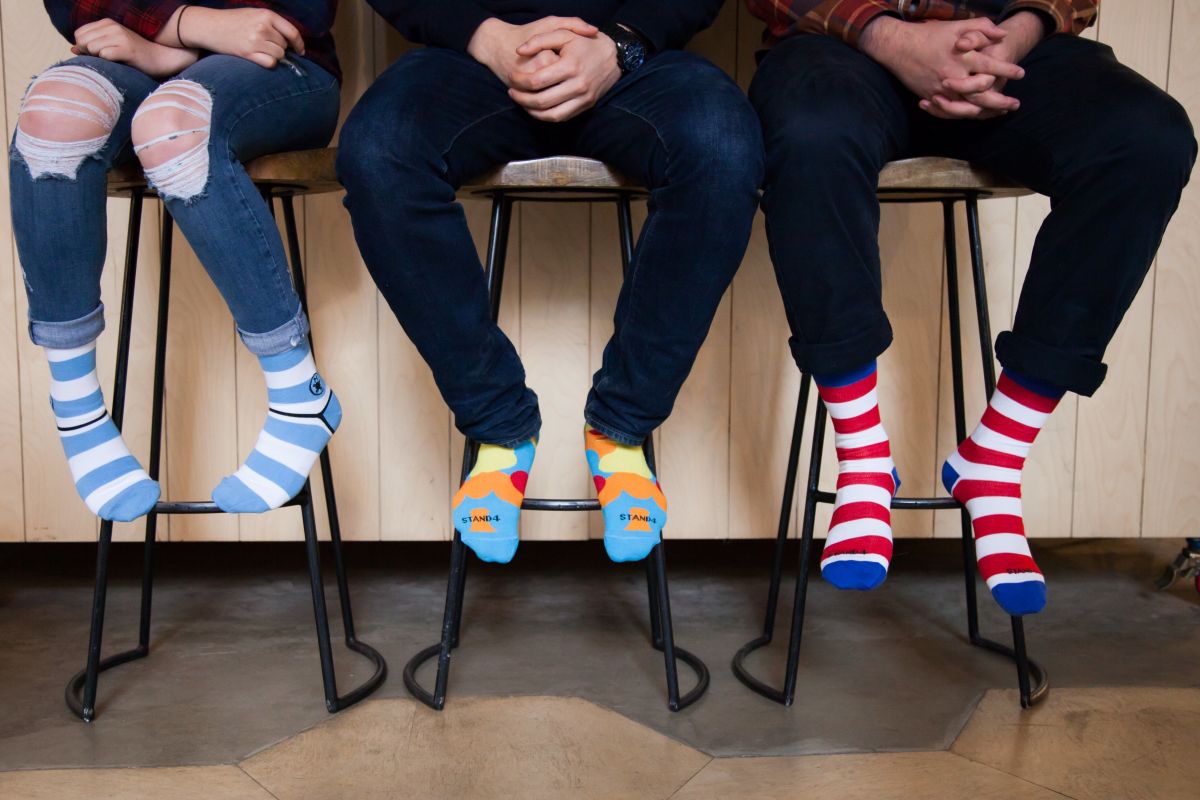 For our stage we recently turned to Indiegogo, the reward based crowdfunding platform to fund our next stage of development. I was looking for £10k to bring our new range of enhanced bamboo socks to reality. The minimum orders of sustainably sourced yarn are not easy to get. Over a month we managed to over fund to 180% raising £18,078 without giving away any equality, or grant restrictions. Just finding advocates all over the world who wanted to help me, and make Stand4's dream become a reality. I would hope a lot of our 268 backers were not pre-buying our socks as a 'nice thing to do', I hope they were buying for themselves, as they believe in the wider vision. Which I assume so for that number of strangers to pay another stranger on the internet for a product they would get three months later. Most people would struggle to remember the last time they brought socks on the internet, let alone pre-bought. Crowdfunding for me is such an interesting concept, not everyone has the excess cash to give or lend money to a project they believe in, but sites like Indiegogo create these amazing connections seamlessly between projects and strangers.
In the future, we will no doubt turn to other sources of finance. My vision is to help create a world where every transaction, however big or small, can have a positive impact on the world; from booking a holiday to purchasing a coffee, to buying a house. If we can prove that something so unusual as socks can have an impact on the world, surely anything can?
Feel free to connect with me at josh@stand4socks.com and check out our website. I hope to continue supporting the development of the Good Finance platform as well as the wider Social Entrepreneurship movement.
By Josh Turner, Founder, Stand4 Socks