At the end of 2021 some of the country's leading social enterprises gathered at London's iconic Guildhall for the UK Social Enterprise Awards. The Awards were a chance to come together and celebrate the incredible work of the social enterprise community.
Social enterprises have shown resilience and strength throughout the Covid-19 pandemic, from working on the frontline of the public health effort, to taking on injustice in the food system , tackling low pay in the cleaning industry or pivoting their business models to keep on supporting the people and communities they are set up to help. 
Many of the winners were recognised for this work; winners came from across the economy and from across the UK. You can find out more about all of them on the Social Enterprise UK website. 
Social Investment Deal of the Year
The winner of this Award was the Social Investment Business (SIB) and Big Society Capital for their work on the Resilience and Recovery Loan Fund (RRLF).
When the pandemic first hit there was real worry amongst social enterprises that they would fall through the cracks in government support. RRLF was created to help ensure social enterprises could access the Coronavirus Business Interruption Loan Scheme to provide crucial working capital to help organisations maintain financial resilience, save jobs and allow the continuation of vital services. 
The fund was remarkably created in six weeks and in total £28 million was disbursed to 77 social enterprises and charities, £24.2m in loans and £3.9m in grants. The RRLF helped secure over 9,000 jobs and the judges commented that "there are businesses that might not be here today without the speedy, affordable support provided by this deal". 
Commenting on the RRLF's successes and the partnership working that went into creating it, Nick Temple CEO at SIB said:
"We were hugely proud at Social Investment Business to be recognised with the Social Investment Award for the Resilience & Recovery Loan Fund. The Fund itself was a huge partnership effort, involving lots of our peers and partners, so it felt like the award was recognising that spirit of collaboration and trust that made things happen during the early stages of the pandemic. What made it all the more special was that some of the social enterprises we had been able to support were in the room themselves – they are the reason we exist, and to help them make the difference they do is a real privilege."
Image
The Esmee Fairbairn Foundation were  highly commended in this category for their £250,000 impact-linked investment into Hubbub to run a climate emergency campaign in Manchester. 
"We're thrilled to be Highly Commended alongside Hubbub for our impact-linked investment. It shows that when co-designed and approached thoughtfully, impact-linked finance can create long-term sustainable impact alongside financial returns. Whilst still an emerging practice, we're committed to championing it as a powerful and flexible tool for aligning and refocusing the investor/investee relationship to shared impact goals."
Caroline Mason, CEO at Esmee Fairbairn. 
Beyond the Social Investment Deal of the Year category, social investment has played a significant and often vital role in helping some of the winners grow and create new products and services. Here are a few winners from 2021 who have taken on social investment.
Change Please – Winner Consumer Facing Social Enterprise
Change Please works with people experiencing homelessness training them as baristas. It uses a 'jobs first' model supplementing living wage jobs with wrap-around support including housing and mental health support. 
Last year they took over operations at all 55 AMT coffee sites in the UK, bringing a social enterprise presence to some of the nation's busiest train stations. When the first wave of COVID hit they set up stalls outside Nightingale hospitals, distributing free coffee to NHS workers.
"Change Please have been fortunate enough to secure additional social investment from the Social Investment Business (Recovery and Resilience Loan fund), Community Impact Partnership and Comic Relief. This has been absolutely vital for us, allowing us to launch more cafés from which we can achieve our mission through providing paid-training and employment for people experiencing homelessness.
The impact has been wider than this however and has meant that in a very difficult period, we were able to secure funding from other sources as well; show our stakeholders that we were expanding and had the confidence of our investors to do so; compete commercially for new retail space opportunities and continue and expand the recruitment and training of our baristas. Accessing social investment has also helped us demonstrate the power of social enterprise to address social needs and be financially sustainable."
Laurence Higgins, Director of Impact and Fundraising at Change Please
Image
P3 – Social Enterprise Team of the Year
A new award created for 2021 – the Social Enterprise Team of the Year, was won by P3. P3 is a national social enterprise delivering a range of services supporting socially excluded and vulnerable people.
Throughout the pandemic, social enterprises have been quick to respond – pivoting business models and setting up new services and the P3 team took this to the next level. In just one year the P3 team helped:
3,195 people exit the streets
Delivered 3,106 food parcels
Rehoused 361 single people and 12 families,
Developed  personalised mental health support line taking up to 70 calls a day
Ran a street outreach team
P3 worked with social investor Social and Sustainable Capital, a relationship which allowed the social enterprise to buy homes during the pandemic for the people they support.
 "We work to ensure our spaces and places make great homes for the people we work alongside to live and grow and having Social and Sustainable Capital on board meant we were able to organise finance at scale, plus we had an investment partner who believed in what we were trying to do and talked our language. It enabled innovation, a new approach to finance and properties, and for P3 to set up a team of talented people who could go out and buy 100's homes during a pandemic for the people we work alongside who needed them the most."
Mark Simms, CEO at P3
Image
Beam – Winner Tech for Good: Technology Social Enterprise
Beam is a crowdfunding platform with a difference – set up to support people experiencing homelessness find secure jobs and a place to live. The platform allows members of the public to raise money to support people with access to specific support. 
They have so far supported over 350 people into stable jobs and helped move over 50 families out of homelessness and into the private rental sector. 
Social investment has played a significant role in Beam's rapid growth, allowing the social enterprise to considerably increase their impact. 
"We're lucky to have a diverse group of funders including mission-driven angel investors, foundations and impact investors. Social investment has allowed Beam to double in size over the past 12 months and helped us attract incredible talent from some of the most prestigious startups and scaleups in the world. 
In turn, this has enabled us to help more than 600 homeless people build brighter futures and leave homelessness for good. It's also supported with our geographic expansion, enabling us to launch in cities outside of London and scale our life-changing support right across the UK."
Alex Stephany, CEO at Beam
Image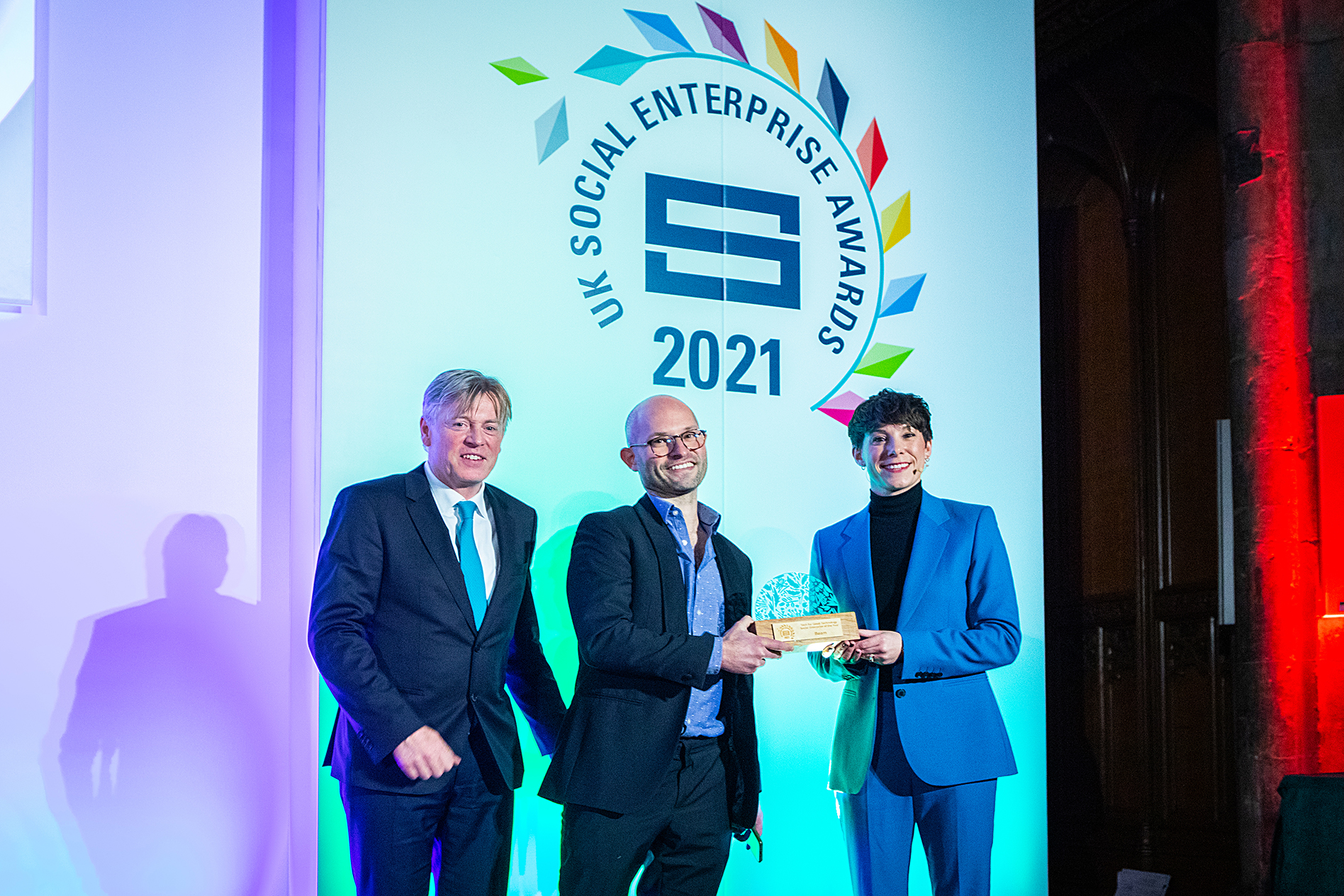 NEMI Teas – Winner Environmental Social Enterprise
The winner of the Environmental Social Enterprise of the Year is a brilliant example of how a social enterprise which on the face of it appears not to have an environmental focus is weaving in environmental responsibility across its operations.
NEMI Teas sells quality, Fairtrade tea creating training and employment opportunities for refugees.  NEMI has put sustainability at the heart of what it does, tackling two of the biggest environmental challenges in the tea industry – plastic pollution and destructive agricultural practices. All their packaging is plastic free and biodegradable. 
Social investment played a huge role in helping NEMI set up and grow. Starting out with a small grant from UnLtd from their Do It: Refugee Award which helped them set up a tea stall they went on to secure investment through their Impact Fund which took the form of blended finance – primarily loans but also through securing a grant when Covid hit. 
Access to social investment "really helped take us to the next level in order to achieve our scale both commercially and employing more refugees in our business." 
- Found at Nemi Teas, Pranav Chopra. 
You can find out more about NEMI's experience of taking on social investment and the benefits of blended capital in Good Finance's 'A Changing World' podcast or read more about organisations building back greener here.
Image
Explore more fantastic examples of social investment in action via our recent casestudies. 
Shehan Perera is the Content Manager at Social Enterprise UK.