Melanie Mills, Managing Director of Social Sector Engagements reflects on the learnings of our recent Impact Hub and explores 5 key lessons from 5 years of Good Finance…
Image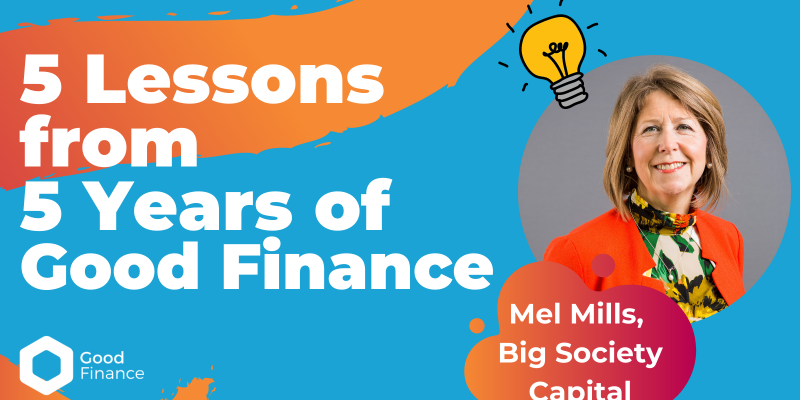 Lesson One: Who Knew?
When we started 5 years ago it seemed certain that navigating this new space that was social investment was hard! And I can say this from personal experience. Back then a  number of social sector players were starting to develop ideas in this space and it was either going to be a race for resources and a fight for funding or an opportunity to co-design for our users and with our users.  One of the things I am most proud of as an employee of Big Society Capital is not only did we demonstrate we could work in a truly collaborative fashion (I think it is fair to say that the jury was well and truly out on that fact at the time) but we could all work together for the benefit of our relevant communities, be they: charities, social enterprises, community businesses or anchor institutions.
If you had asked me then, if I ever imagined a time when over 400,000 unique users had accessed information on Good Finance I would not have believed that was possible. Why? Because at that point some market sizing Big Society Capital had done estimated social investment might be relevant to around 30,000 social enterprises and charities. Then we were using indicators such as 100k turnover and employing several staff, with a new generation of programmes and products like the Growth Fund and Reach in particular this has changed access to finance making it possible for smaller organisations to borrow the smaller amounts they need. Updating that market sizing work recently we now believe that number is nearer 50,000 and increase of almost 70%.
Lesson Two: Users front and centre
I would say I have always had a focus on customers maybe my 20+ years of retail has something to do with that but my introduction to user centred design came at the hands of our first Good Finance Project Manager – Kieran Whiteside. This foundation has been built on by Ishita and Annie and we now have a user manifesto and absolutely everything we do defaults to what a user needs. It has been the mainstay of our decision making and central to our priorities and it makes the difficult choices easy, if users are at the heart of what you do and why you do it design follows their lead and is iterated upon their feedback. It doesn't stop here. I am pleased to say that this ethos has rubbed off on partners and our funders and proud that this is an area that Good Finance can confidently claim to be leading from the front.
Lesson Three: Learning keeps you young
I am not a digital marketing professional, I was relatively late to social media (I am crediting Claire Reynolds in a previous role with that one) and I definitely hold up the average age of the team but I just love to learn and to share that learning in equal measure. Whether it's in understanding the analytics that sit behind our website, new tools that improve our reach or improve accessibility, getting to grips with design and exploring the thing of the moment – who knows maybe you will see us on TikTok soon and no I am not being flippant! The team teach me something every day and I thrive on that learning. We want to be generous with that knowledge so if we can share or help in anyway don't hesitate to get in touch. Oh and as a mum of two teenage sons I do love the little bit of street cred that comes from knowing something they potentially don't!
Lesson Four: Find yourself a Simon
Well this one is complete plagiarism, and to give credit where it's due I pinched this one from Daniel Brewer, CEO at Resonance. He was generously giving credit to the other half of his leadership team Simon Chisholm and contexting the role that his support and that of the team had meant. Good Finance is simply more than the sum of its parts from current super team (Ishita, Annie supported by Olivia and Rosie) to everyone who has contributed previously – Emily P , Emily L, Luna, Festus and of course Kieran. Each one has brought fresh ideas – who could forget the singing social investors Xmas campaign of 2019? And it's not just staff – Natalia from Big Issue Invest brought ideas which resulted in the development of our cost of capital resources, unsurprisingly one of the fastest growing resources on our site. I feel privileged to work with not only a great team but partners too (whether they be our Steering Group, marketing, event or programme partners) So this is an open invitation we love new ideas so if you have one come and talk to us and it might actually become more than an idea.
Lesson Five: Is it worth it?
No this is not an advert for a well known beauty brand but it is one of the questions that I get asked most frequently. Is borrowing money you need to repay with interest, the relative pain of due diligence, the time it takes to ready your organisation for investment and bringing your directors and trustees - is all this really worth it? 
I am not sure I can answer that question adequately for any social enterprise or charity as it will always be an individual choice. What I can say is that ultimately social investment is just a another tool for impact and if it helps you deliver more of that then maybe you have your answer.