Find the gift that truly keeps on giving by choosing to buy from a Social Enterprise in 2021, supporting the businesses that are changing the world for the better.
Finding the perfect gift for a loved one is difficult at the best of times, but with many activities off the cards this year, Valentines' Day 2021 presents a whole new challenge!
Now, more than ever, it's important to support social enterprises that are reinvesting or donating profits to create positive social change. Whether you've spent all three lockdowns under the same roof or you're sending your love and gratitude from afar, we are excited to feature seven fantastic social enterprises, all of which offer ideal gifting options for your partner.  
Food & Drink
Luminary Bakery 
Get all kinds of delicious eats and treats from this fantastic bakery, which has even launched a special raspberry and white chocolate Valentine's Day brownie for the occasion! In addition to treating your partner to this chocolate goodness, you'll also be supporting a social enterprise that offers opportunities for women with a social and economic disadvantage to build a future for themselves. They received social investment from Comic Relief, and you can read how they adapted at pace to the outbreak of COVID-19, here. Learn more about their products and mission, check out their "Rising Hope" cookbook and order your brownie on the Luminary Bakery website.
Image
Migrateful
A virtual cooking class is a brilliant way to spend a cold winter's evening, making memories together and honing your culinary skills while learning all about the exotic flavours and ingredients of a far-away land. Migrateful runs fantastic cookery classes that are led by refugees, asylum seekers and migrants struggling to integrate and access employment. These environments provide ideal conditions for them to learn English, build confidence and promote contact and cultural exchange with the wider community. Get your spaces booked today!
Miss Macaroon
Why not treat your Valentine to some heavenly, handcrafted macarons this February? There's a range of flavours and hampers to choose from on Miss Macaroon and you can enjoy safe in the knowledge that your purchase has contributed towards helping disadvantaged young people gain skills that will change their lives forever. They train small groups of individuals aged 18 to 35 and tailor each eight-week course to address personal barriers to employment. Miss Macaroon received a couple of relatively small grants to set up their kitchen and since then have gone on to raise £70,000 in investment, which was matched with £50,000 by the Big Venture Challenge. 
Image
For caffeine lovers: Nemi Teas or Second Shot Coffee
Nothing beats a good quality cup of tea or coffee. Check out Nemi Teas who stock something for every tea-lover in your life, from classic English Breakfast to Cardamom Chai and everything in between. But their trendy tins delivers more than just brightening up the inside of your cupboard. The company provides employment to refugees, giving them local work experience and job readiness - listen to their Founder talk about their social mission. Check out their shop via the Nemi Teas website.
Image
For the coffee lover in your life, we recommend Second Shot Coffee - tackling homelessness one espresso at a time! Shop coffee here and check out their story of using social investment here.
Mindful Activities 
Think2Speak Art Prints
Think2Speak is the place to shop for creatives. They stock a range of imaginative gifts including colouring books, notebooks, patches, pins and prints. The designs are beautiful and each and every purchase contributes towards a more inclusive society, equipping young people with the tools and knowledge they need to make important conversations happen. Check out their

shop

and order today and

listen to their Founder share their incredible story of navigating Covid-19 here

!
Image
The Crop Club
Any at-home, activity-related presents are likely to do well this year for obvious reasons, so pull on your virtual wellies and visit The Crop Club to give the gift of a gardening project. From complete growing kits to the sustainable tools they need to succeed, there really is something for everyone. This gift comes with the added bonus that each and every purchase helps to raise awareness and education on how the local growing movement can encourage more biodiversity and resilience within our communities. 
Get cosy at home
Dalit Candles
After spending much of 2020 at home, the majority of people will have a new-found appreciation for scented candles. Treat someone special in your life to a beautiful, intricately-designed scented candle from Dalit Candles, who boast an extensive range of products to suit every budget. Each sale helps to raise awareness of the Dalit plight, provides work for the underprivileged and supports this company's work with the Dalits in India.  
Image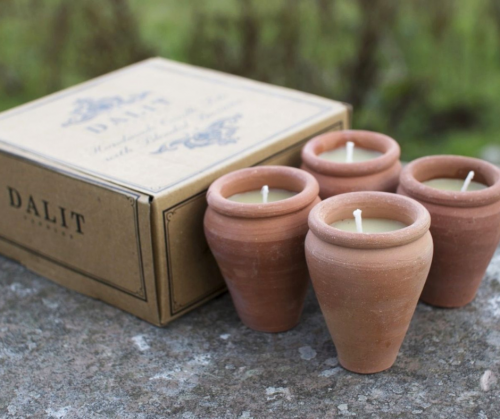 Page & Bloom
Flowers are a fantastic and traditional Valentine's Day gift, but they are even better when they're made from recycled paper! These beautifully crafted flowers look lovely, will never wilt and are made from recycled and salvaged materials.  Page & Bloom is a social enterprise that provides fair employment and opportunities for women who have experienced domestic abuse. They also run free flower-making workshops for women supported by the domestic violence charities they partner with. They were a part of the UnLtd Thrive programme that was created to help social enterprises scale both business and impact. 
Stand for Socks 
For anyone looking for a romantic gesture this February, look no further than a lovely pair of socks featuring the skyline of the city where you met. There's also a range of other designs to choose from, including some enjoyable puns – 'Toe-zen Planet' being a firm favourite. Stand for Socks are an innovative social enterprise that have designed the most suitable socks for homeless people, donating a pair to a homeless shelter with each item sold via their online shop, proving their ethos that socks really can change the world. 
Image
Our top places to shop social:
We hope we've given you some good inspiration on where and what to buy this Valentine's Day. Here are a few places you can find the above products or shop more social: 
Social supermarket

Big Issue Invest

Bookseller.org
Here at Good Finance, our mission is to help charities and social enterprises navigate the world of social investment. We have a range of insightful tools and resources designed to help, including the Outcomes Matrix, the 'Is it right for us?' Diagnostic Tool and the Fund Mapper - try them out today and let us know what you think.
Do you have a passion or purpose that drives your business? Tell us more by tweeting @GoodFinanceUK.